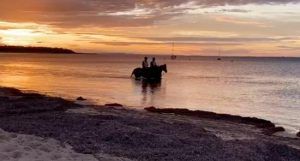 On Saturday at Caulfield when Felicia sat outside the lead at the 400m mark towing Craig Williams towards the straight butterflies rumbled amongst her nervous connections.When she crossed the line to win by panels the many chapters of a 3yo filly's story who was never meant to race again came to not an end but a rewarding intermission.
Reward for the connections who had heard startling opinions from death to a horse that would never race again from 3 vets.To Brooke Barker from Ribblesdale Stud(Leopold,Vic.) who could see light at the end of the tunnel.And to Dean and the team at 888 who found a way to first rehab and then return Felicia to her rightful stage,winning on a Saturday at Caulfield.
The Vic bred 2yo Felicia's story started well enough winning consecutive starts at Saturday level in Adelaide.But the fairytale beginning soon turned to horror when an arthroscope to clean up a bone chip to a knee turned to infection.Another arthroscope left the filly at death's door and any thought of a return to the track was a thought too far away for connections living a nightmare.
Headed west by road to Brooke Barker at Ribblesdale Stud to recover and hopefully commence life as a mother the filly would give herself the harshest of times,her bad tempered way leaving her looking like an opponent of Ali in a 12 round bout.On receipt of the flighty filly Brooke got to work first mending the repercussions of the road trip then with a joint supplement regime as part of Felicia's racing injury recovery.Over time Felicia showed signs to Brooke,a flicker of light,that her racing days may not be over.Inspired Brooke soon found willing partners in Golden Plains Equine who would revisit the beginning of a supposed end.The end result was a thought that with time and a well managed rehab Felicia had a fighting chance of returning to the track.
A think tank between the cast of Felicias' story came to a decision that to give the filly her greatest chance of a return to the track she would need to find herself in a stable combining the best of care and rehab facilities and the know how to return a horse with past troubles back to the turf.
So Felicia found herself at the stables of 888 Racing.With facilities such as a world class Water Walker and access to beaches such as Balnarring where long gallops on the sand and the recuperative salt water can give the foundation and fitness for a horse to return successfully from trials akin to Felicia's.With knowledge gained from over thirty years with training thoroughbreds Dean first slowly rounded off the filly's rough edges and re-introduced her to stable life.He would patiently work her back to fitness using Balnarring and the tracks of Mornington Racetrack,no more than a stone throw from 888's stables.Soon the flickering flame from Ribblesdale Stud became a torch at 888 and the team could finally set a date for a return from death's door to the track.
On April 18 this year 888 Racing presented Felicia on track at Caulfield confident that the filly was ready to compete again.But as with the rest of the team an edginess was present that comes with having the knowledge of the returning horses past.Despite the jangled nerves Felicia wouldn't and couldn't disappoint her team finishing a half length third.The return would be the precursor to another four starts in a campaign that would reap another 2 placings and culminate with Saturdays 4 length win.
The final page to this chapter has seen Felicia return to a spelling paddock at Ribblesdale back where this story began to turn from dark back to light.The next chapter will hopefully see her return to 888 where the same daily attention from the team,world class facilities and Dean's expertise will give this story every chance to continue on towards a happy ending.