Attention Owners and Breeders
Are you tired of hearing your young horse has gone shin sore and needs a lengthy spell, resulting in downtime and additional exorbitant costs while you wait? Trainer Dean Binaisse has spent the years developing and redefining a training program that eliminates shin soreness, regardless of age. This program has proven that once your horse has successfully completed the training regime,in it's entirety, it doesn't matter what exercise is demanded of your horse it will not suffer from SHIN SORENESS! This program has recently been adopted by one of the biggest thoroughbreds farms in Japan, arguably one of the strongest racing jurisdictions in the world.
With the benefit of our own onsite water walker Dean has developed,with success,specific programs for horses suffering from knee problems or post-op rehab issues An example is Anabaa's Legacy who ran 3rd in the Group 3 Cockram Stakes and was a city-winner after returning from knee surgery. Other program successes include FAB FEVOLA, who was not conducive to working on the track (over worked), however through the identification and benefits of the water walker he has been able win multiple city races in Melbourne and running the fastest furlong ever recorded in Australia when fourth in the Group 1 Lightning.
Dean has also studied biomechanics of young horses to help him select the best quality yearlings on the ground when at the sales, which has resulted in a number of outstanding purchases for clients demonstrating exceptional value for money. Such as:
* CARNERO - bought for $30,000 and winner of over $500,000;
* FOR A SONG - bought for $1,500 for $45,000 in prize money from just 6 career starts to date;
* EQUINOVA - bought for $20,000 a winner of over $70,000 and Moonee Valley winner;
* HAPPY MONEY - bought for $15,000 an 8-Time winner in Singapore and winner of approx.$500,000
* ANABAA'S LEGACY - Bought for $75,000 AUD. City winner of $150,000 who was Group Placed and a city winner Sold as a Broodmare for $150,000.
Not only does Dean have a proven yearling selection record he has an excellent history of educating and preparing these young horse to target their respective race series such as the Magic Millions and Inglis Bonus Races. For example, Carnero was a big winner of the $350,000 Caulfield Inglis Race and For A Song and Equinova running second and third in the $100,000 Inglis Classic.
There is so much more to 888 Racing than training horses so we encourage you to call Dean anytime to discuss any of the above programs. Once you have heard the process you won't look back! It is the best development and environment for thoroughbreds and 888 Racing has everything you need to bring the best out of your horse!
Call Dean on 0412 388 526
Horses Currently Available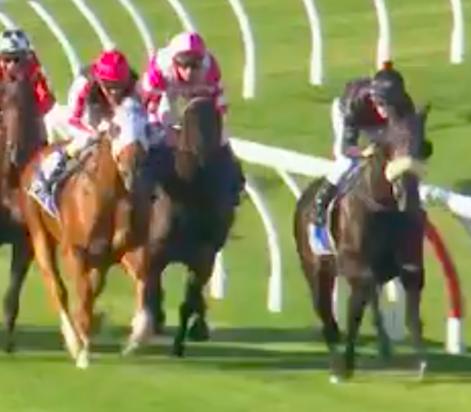 5 year old Black Filly
Sire: Love Conquers All Dam: Bella Elegante
CLOSELY RELATED TO EXCITING 2yo ZELADY'S NIGHT OUT!!
CONTACT DEAN NOW - This horse has had a handful of starts and is starting to realise her potential-A stunning filly by exciting sire LOVE CONQUERS ALL.
It was pretty much a given that the first ye...
2 year old Bay Filly
Sire: Your Song Dam: Navaja
DYNAMIC SONG(Your Song x Navaja f) from TOOLOOGANVALE FARM,who retains 50%.This is the farm that has provided 888Racing with horses such as WORLD OF HOPE(City winner and $125K) and VALUE ABBEY.Her dam Navaja was stakes placed in the US and is a fu...
2 year old Black Colt
Sire: Sacred Falls Dam: Dulcine'e
##1/2 SISTER WINS 1ST START AS A 2YO##Athletic,strong Sacred Falls Colt from a Pins mare who has produced VAN IRVING a winner at debut 2yo Rotorua.Bred by the renowned Matamata nursery of Blandford Lodge.The best of NZ breeding
Upcoming Runners
Recent Winners
| Horse | Date | Race | Margin | Jockey |
| --- | --- | --- | --- | --- |
| Sir Mask | May 14, 2019 | 6 - Sale | 1.00 | Mikaela Claridge |
| Mula | Apr 12, 2019 | 8 - Wangaratta | 2.30 | R T Tremsal |
| Mula | Mar 28, 2019 | 7 - Donald | 2.30 | R T Tremsal |
| Predecessor | Mar 12, 2019 | 6 - Echuca | 0.50 | S Baster |
| Predecessor | Sep 13, 2018 | 2 - Mornington | 1.30 | D Dunn |
| Value Abbey | Mar 18, 2018 | 4 - Yarra Glen | 0.80 | Patrick Moloney |
| Mula | Jan 20, 2018 | 3 - Camperdown | 3.80 | Chelsea Hall |
| World Of Hope | Dec 08, 2017 | 5 - Moonee Valley | 0.50 | Craig Williams |
| Fast And Furious | May 12, 2017 | 4 - Cranbourne | 0.10 | J Mott |
| Sir Mask | Mar 25, 2017 | 9 - Mornington | 0.10 | S Baster |
Latest Results
| Horse | Finished | Date | Race | Margin | Jockey |
| --- | --- | --- | --- | --- | --- |
| Moshe Pit Gem | 11 | May 23, 2019 | 2 - Wangaratta | 13.90 | R T Tremsal |
| Value Abbey | 2 | May 23, 2019 | 6 - Wangaratta | 2.50 | R T Tremsal |
| Predecessor | 14 | May 18, 2019 | 7 - Flemington | 10.40 | C Newitt |
| World Of Hope | 4 | May 15, 2019 | 2 - Sandown-Hillside | 2.60 | R T Tremsal |
| Sir Mask | 1 | May 14, 2019 | 6 - Sale | 1.00 | Mikaela Claridge |
| Predecessor | 2 | May 04, 2019 | 5 - Flemington | 4.00 | C Newitt |
| Mula | 9 | Apr 27, 2019 | 6 - Kyneton | 13.50 | R T Tremsal |
| Rebelusion | 8 | Apr 27, 2019 | 1 - Kyneton | 20.10 | Samuel Payne |
| My Halo Rocks | 6 | Apr 26, 2019 | 8 - Werribee | 3.40 | R T Tremsal |
| Predecessor | 4 | Apr 25, 2019 | 4 - Flemington | 1.20 | C Newitt |