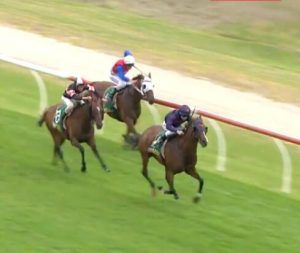 Staying mare Moshe Pit Gem looks to be travelling the path that 888's Dean Binaisse predicted she'd tread as she heads to Bairnsdale on Sunday.On picking the Moshe filly out of a paddock at Ribblesdale Stud on the Bellarine Peninsula Dean was sure the filly in time would get over ground.Her confirmation and her Montjeu blood backed up his thoughts.
MPG's first eight starts were nothing flash but start nine seen the mare place second which she followed up with her Maiden win over the mile at Donald racing handy before running away to win x 2 1/2L.After a brief freshen a run at 64BM showed that the mare was ready for a spell.
A handful of runs back had the mare battling a couple of minor issues but after a freshen Dean felt MPG had turned the corner.Over 1968m @Yarra Valley racing handy and strong through the line she showed up for a placing.Her next start seen her carry her form through and she won with dominance over the 1950m @Yarra Valley.
Off this win MPG has worked well and the stable is confident she can progress to the 2200m of Sunday's staying contest at Bairnsdale on their Cup day.
Although Moshe Pit Gem looks to be no superstar the mare plucked from a paddock by Dean with a plan in place will give here band of owners plenty of joy as her career unfolds.