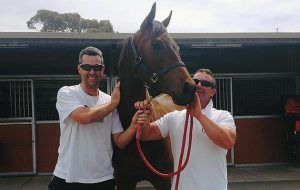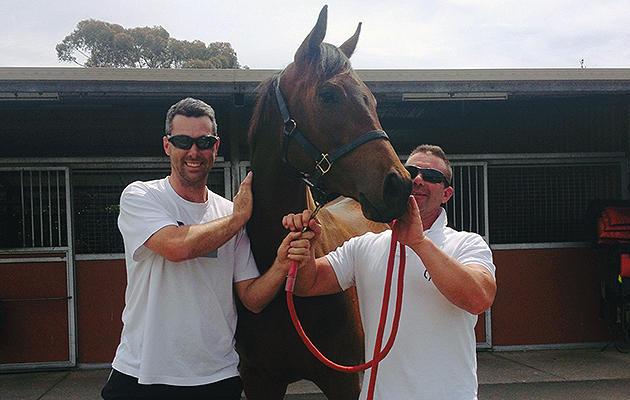 Most people are happy to come off a mechanical bull ride without a bruised behind. Many do it for little more than a laugh and a handful of drink cards.
To walk away with a 10 percent share in a racehorse is unthinkable, yet that's exactly what happened for one lucky racehorse owner.
Narre Warren-based plumber Daniel Orchard, 37, was talked into attending Mornington-trainer Dean Binaisse's ownership open day six months ago by his work colleague, David Baker.
The pair thought it would be a nice change of scenery and had backed a few Binaisse-trained winners in the past.
Orchard said that despite having dabbled in racehorse ownership with a Toowoomba-based gelding a few years back, he'd given little thought to re-entering the game.
However when Binaisse announced a 10 percent share in a his newest two-year-old filly was on offer for whoever could last the longest on the mechanical bucking bull he'd hired for the day, the boys couldn't resist.
"I mainly did it to try and beat my mate," Orchard admitted.
"He fell of it pretty early and I hung on for 11 seconds, as did another guy that I didn't know.
"We then had a play-off and whoever held on the longest of us two won the share. He went first and fell off after 11 seconds, I managed to hang on for 12 and the rest as they say is history."
It's hard to imagine a trainer putting up such a lucrative prize. Luckily for Binaisse, the prized filly was purchased 'for a song'.
A daughter of the now China-based stallion Gonski, Binaisse's filly walked through Inglis' Oaklands sale ring at the 2014 VOBIS Gold Yearling Sale before few admirers.
Her original breeder had sold his property just five weeks earlier and a mix-up in communications saw the new land owner inherit the VOBIS-nominated filly.
"When the new bloke got her, I don't think she'd seen another human in weeks so she wasn't in great nick," Binaisse said of his filly's chequered past.
"The new bloke only had her for five weeks, so she didn't have that proper sales day polish on her.
"But I saw her walk around the back parade ring and she marched around real good. She was everything I wanted: big strong hindquarter and a good walk."
Binaisse chanced his luck in the sale ring, and was able to secure the promising filly for just $1,500.
Given the appropriate racetrack name For A Song, Binaisse's filly is set to make her racetrack debut on Tuesday at the famous Warrnambool May Carnival in the $100,000 VOBIS Gold Strike (1000m) for fillies.
Should she be the first to salute the judge, the two-year-old will net her connections a cool $63,000 in prizemoney and Super VOBIS bonuses.
Binaisse has his filly primed for her racetrack debut. A recent 750m wet-track trial victory at Balnarring has the Cranbourne-based horseman confident his charge can handle no matter what the weather gods throw at them.
"It will be a tough little field, but with the prizemoney on offer for Super VOBIS and VOBIS Gold it's a handy option for her," Binaisse said.
"I've never seen a horse like her, she's really quirky and just tough.
"Once she learns she doesn't want the other horses getting past her and she harnesses that in her races she'll be hard to get past.
"Even thought she may have limited ability, that heart and aggression will take her a long way.
"Hopefully, it can take her to a win. That'd be a great result for the whole team."