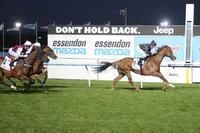 The late nomination by Mornington trainer Dean Binaisse of his galloper Fab Fevola could have a major effect on the outcome of Saturday's Group 1 Black Caviar Lightning.
The first of Melbourne's three major autumn sprints is set to be a showdown between the world's equal-highest-rated sprinter Lankan Rupee, the undefeated Deep Field and Group 1 winners Brazen Beau and Tiger Tees.
The Team Hawkes-trained Deep Field has never been headed in any of his five career starts, winning all three wire-to-wire, however, if Fab Fevola is to take his place in the field it will significantly shape the speed of the premier sprint.
"If he's in it he's going to stretch them for a long way, those quality horses I'm not sure outside of Deep Field what other horse has to go forward and lead," Binaisse said.
"It will be an exciting race if he does go around and I'm sure a lot of people will be interested if he does because it will change the whole dynamic of the race."
With the Mick Price stable riding Lankan Rupee off the pace at his jumpouts and trials, Deep Field faces the prospect of getting in a speed battle with the 79-rated Fab Fevola.
"Small fields in those big races, our tactic will be the same, he can only be ridden one way because of his breathing problems and his nature," Binaisse said.
"He just likes to get out there and bowl along; you can't change his tactics that's just the way he is.
"Fab's only got one gear, he's got a dog clutch on him like on a boat, you just jam it into gear and off he goes."